Location: 45 minute trip from Malaga AGP airport - bus or taxi
After so many stories about Marbella , Spain and especially the Andalucian
province by a variety of friends and relatives, this summer i finaly managed to
visit Marbella myself. I have to agree with them, it is a superb holiday
experience. Marbella and it's harbour Puerto Banus are seriously buzzing in this
time of the year.
The Marbella micro climate makes it possible to max out all 24 available hours
in a day. Chilling out during the daytime in the simmering sun on the palm tree
bordered beaches, tanning up and preparing for the nightlife showoff. And it is
a showoff - it is hard to find any other place where the nice things are qeueing
up like they do in Marbella. Eyecandy almost everywhere. Beautifull people,
places, cars and yachts. There is no limit to the sheer display of luxury in
Marbella. If you did not brought it with you, shopping options are open at the
numerus available designer shops, and i suggest you do if you do not want to
stand out of the crowd. Escaping Marbella is a welcome option after a few days of pure hedonism, and the
contrast with the real relaxed Andalucia is one to be tasted. A few tips: Ronda
with it's spectacular views, and Tarifa on the Atlantic coast, famous for its
white beaches and a surfers paradise. There is so much more to discover in
Andalucia that two weeks just don't cover a big enough time span to see it all.
I entered Marbella on my "visit again list" as one of the toppers.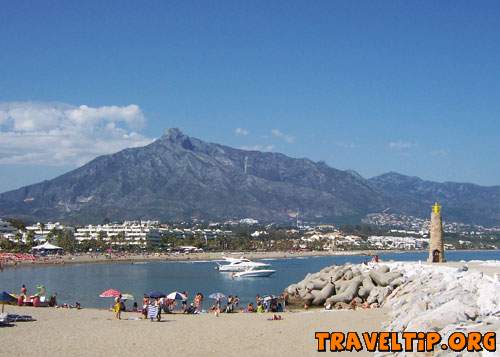 Posted by Patrick
-
Patrick[at]mmi4 dot com
Date:
05th September 2007
View from the pier over the Puerto Banus East bay