Posted by Willa - foley dot wj[at]gmail dot com
Country: United States of America
Region: Vermont
Cost: About $25 for an all day ski pass. Tykes free.
Website: www.voga.org
Date: 04th November 2006

Add Your Photo
Location: Midway between Boston or New York and Montreal. We came from Montreal via
Vermont Transit ($30) and on to New York via Greyhound ($32).
Amid the fancy mega ski resorts in southern Vermont, we discovered an area with 3 inexpensive but quite good resorts, Magic Mountain, Bromley & Viking Nordic - all close to Londonderry, Vermont. We were able to get ski & stay packages for less than the price of a ski pass at most resorts in the northeast. There are 2 ski hostels in the area that accept families - Dostal's Lodges in Londonderry at the base of Magic Mountain and the Trojan Horse in Ludlow near the Okemo resort. Because of budget restrictions, we only skied (with the exception of booking a sleigh ride for the kids) but there is a ton of things to do for the whole family.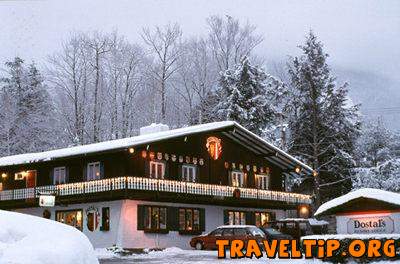 Anonymous PostDate:
29th November 2006
Dostal's Hotel at Magic Mountain, Vermont