Anonymous Post
Country: New Zealand
Region: West Coast
Cost: Free
Date: 17th August 2006

Add Your Photo
Location: About 50km north of Greymouth on state highway 6.
Punakaiki is the town centre for the Paparoa National Park - 30,000 ha of varied landscape from classic West Coast native rainforest and mountain tops, to the expansive rugged coastal beaches. The short track from the road leads through native ferns, pongas, and nikau palms to the pancake rocks. This is where rain and sea water have widened the joints in a well-bedded limestone that dips gently seaward into many deep narrow channels. The remnants survive as narrow ridges and pillars in which the softer layers have been eroded out, leaving the harder layers projecting to give the layered effect from which the rocks take their name. Caves and large open chambers, the largest with a natural bridge, have been carved in the rock by the Tasman Sea, assisted by the explosive effects of air compressed in the joints by the waves. When the sea is rough, thunderous booming and rumbling noises accompany geyser-like jets of water and compressed air from the blowholes as the sea rushes in and out of the caves.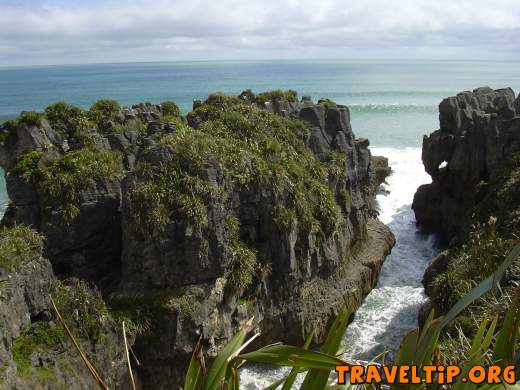 Anonymous PostDate:
17th August 2006