Location: The Masai Mara National Reserve lies about 270 kilometers from Nairobi, and
takes about 4 to 5 hours by road. There are scheduled flights, twice daily from
Wilson Airport Nairobi, which take about 40 - 45 minutes. The reserve is about
1510 square kilometers having been reduced from 1672 square kilometers in 1984.
However, the wildlife is far from being confined within the reserve boundaries,
and an even larger area, generally referred to as the "dispersal area" extends
north and east of the Masai Mara National Reserve. Maasai communities live
within the dispersal area with their stock but a century of close association
with the wildlife has resulted in an almost symbiotic relationship where
wildlife and people live in peace with one another. The first sight of this
natural wonderland is breathtaking. Here the great herds of shuffling elephants
browse among the rich tree-studded grasslands with an occasional sighting of a
solitary and ill-tempered rhino.
The endless plains of east Africa are the setting for the world's greatest
wildlife spectacle - the 1.5 million animal ungulate (wildebeest) migration.
From the vast Serengeti plains to the champagne colored hills of Kenya's Masai
Mara over 1.4 million wildebeest and 200,000 zebra and gazelle, relentlessly
tracked by Africa's great predators, migrate in a clockwise fashion over 1,800
miles each year in search of rain ripened grass.

There is no real beginning or end to a wildebeest's journey. Its life is an
endless pilgrimage, a constant search for food and water. The only beginning is
at the moment of birth. An estimated 400,000 wildebeest calves are born during a
six week period early each year - usually between late January and mid-March.

The migration is a natural event and the timing varies month by month; year by
year.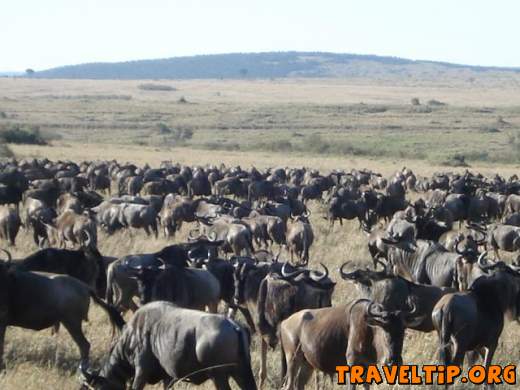 Posted by Sophie
-
sophie[at]hirolasafaris dot com
Date:
11th March 2009
Wildebeest migration in Kenya