Anonymous Post
Country: Australia
Region: Queensland
Date: 17th March 2006

Add Your Photo
Location: Natural Bridge is about an hour's drive from the Gold Coast or two from
Brisbane. Natural Bridge is located on the Nerang-Murwillumbah Road, about four
kilometres north of the border gate. From the Pacific Highway, you can turn off
at Nerang (30 kilometres to the park) or at Mudgeeraba (42 kilometres to the
park via Springbrook plateau). The scenic access roads are winding and should be
travelled with care. Mini-bus tours run to the park from the Gold Coast and
Murwillumbah.
The Natural Bridge is a naturally formed rock arch over Cave Creek (the
headwaters of the Nerang River). It was formed from a waterfall which undercut a
cave beneath the waterfall and dug a pothole on top, until the two joined and
the creek flowed through the cave, leaving an arch across the front.

The bridge is in the territory of the local Kombumerri aboriginal people (a
family group of the Yugambeh language peoples). The first Europeans to find it
are said to be timber cutters Alexander (Sandy) Duncan and Din Guinea.

Swimming is permitted in the creek and cave, but jumping from the top is
dangerous and not permitted. The cave is home to a colony of glow worms (larvae
of the insect Arachnocampa flava) and commercial operators lead night tours into
the cave. Access to this section of the park is from the Nerang-Murwillumbah Road.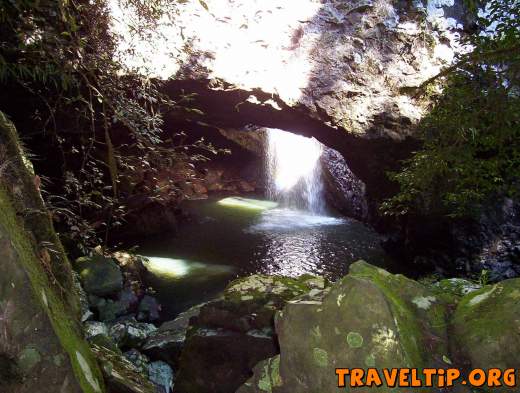 Anonymous PostDate:
17th March 2006