Posted by Bill
Country: Zambia
Region: South Luangwa
Cost: $30pp for self-contained chalet less for tents
Website: www.flatdogscamp.com
Date: 12th September 2005

Add Your Photo
Location: Easiest way is to take a flight to Mfuwe from Lusaka. If you have made a reservation they will send someone to meet you.
Many game lodges in Africa are very expensive. Flat Dogs Camp on the banks of the Luangwa River is much cheaper than most and also a really nice place to stay. "Flat Dog" is local slang for crocodile - there are plenty in the river but none in the camp. While we stayed there we had Elephants, Buffalo, Baboons and hippos in the camp. You can also take day or night game drives. Most people get to see leopards at night although we didn't.
The food is great and everyone is friendly and helpful.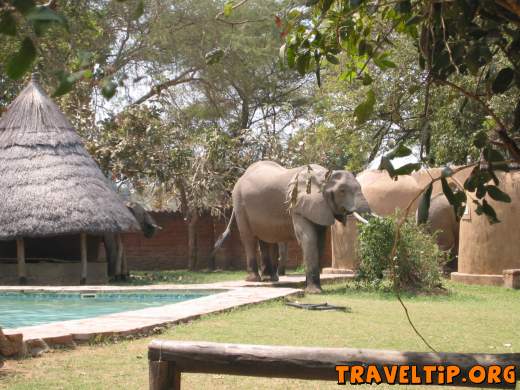 Anonymous PostDate:
08th December 2005
Elephants visit the swimming pool.