Location: Nearest town is Eudlo, which is on the main Brisbane to Nambour line. From Eudlo it`s a 15 minute drive/hitch/taxi ride following the signposts.
Chenrezig was established in the early 70s with the philosophy of creating a place where young westerners could study the profundities of Tibetan Buddhism in their own language. Although Chenrezig is of interest for it`s colourful and ornate Tibetan fixtures, such as the Gompas (Tibetan for "place of meditation"), Prayer Wheels, and the Stupa (symbolic sculpture), it`s no Tibetan theme park. Its unique provision of informal yet authentic teaching has attracted students and teachers from all over the world, and Chenrezig supports one of the largest Sangha (community of Monks and Nuns) in the West. There are ongoing guided mediations, one-day workshops and intensive courses open to the public.
Chenrezig is surrounded by it`s own 160 acre sub-tropical rainforest, and provides private, dormitory and retreat accommodation, an eclectic library, 2 Gompas, a gift/bookshop and "Lama Yeshe`s Big Love Café", where you can find healthy vegetarian meals and snacks that don`t compromise on the yummy factor. Chenrezig is a not-for-profit organisation, and the near daily guided meditations and Geshe-la`s Wednesday morning General teaching are open to all on a donation basis. There are reasonable charges for longer courses. Breakfast and a soup supper cost $5.50 each, lunch (the main meal of the day) is $9.00. There are camping facilities available from $12.00 per person, and accommodation costs between costs between $15.00 and $42.00 per night. Day visitors should call ahead to book for meals.
I spent a few months there this summer and am still reaping the benefits. Of all the places I went to in Australia on my Working Holiday year, this was definitely the first place I urge you to head for. Check it out, check up, chill out!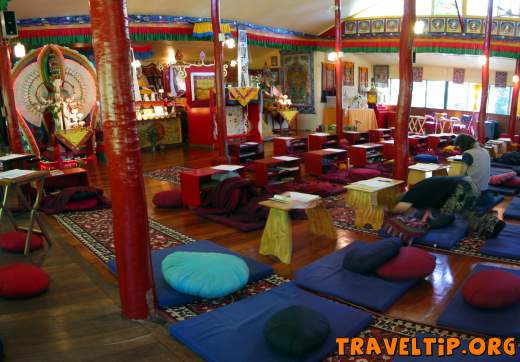 Posted by Dominick Pontois
-
dompontois[at]optusnet dot com dot au
Date:
04th February 2007